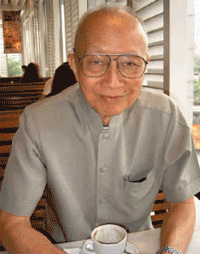 Police General Vasit Dejkunjorn
Non-fiction
Police General Vasit Dejkunjorn has had a long and distinguished career as a police officer, newspaper columnist and writer. Widely regarded as a public servant with high integrity and professionalism, as a career police officer he served as police inspector-general, deputy director-general of the Royal Thai Police, chief of Royal Court Police, and after his retirement, senator and deputy minister of interior. He started his career in literature early. Since his time as a student at Chulalongkorn University in the late 1940s, he has written thousands of articles, numerous short stories and over 20 novels. His Thai-language novels have been best-sellers among Thai readers and made into films and TV series such as Hak Lin Chang (หักลิ้นช้าง), Sarawat Yai (สารวัตรใหญ่), and many more. He was named National Artist in Literature in 1998.
Now in his retirement, Pol. Gen. Vasit continues his writing as well as his public service work in various capacities, including as special court police officer and vice president of Transparency Thailand. He also lectures on management and ethics and teaches Buddhist meditation.